SIX FACTS ABOUT BROOKLANDS' REVIVAL
If you visit Brooklands today you can still walk stretches of the iconic 1907 banked track where the first British Grand Prix was held in 1926… where John Cobb pushed his Napier-Railton to a lap record of a thundering 143.44 mph in 1935, and where Gwenda Stewart battled with Kay Petre for the women's outer circuit record. It's a physical link with the past – you can almost hear the exhaust notes howling and echoing through time.
But Brooklands today is much more than a static reminder of a bygone age – it's a living, breathing link with the past. Classic racing cars are lovingly maintained to the exact condition in which they rolled out of the pits, and over 13,000 school children visit each year to be inspired by the STEM subjects at the heart of the museum's ethos. Brooklands Watch Company is proud to be linked to this amazing institution – here are 6 facts about the Museum and what it does.
1. The start line
The Museum was born in the 1990s – but initially the whole site was at risk! British Aerospace (who owned Brooklands and operated a factory on the site) announced that it was going to sell off the most historic 40 acres of the original Brooklands Circuit. Luckily, Elmbridge Borough Council and Gallaher Ltd negotiated a 99-year lease in 1984 for 30 acres of the site, and by 1985 the clubhouse and 100 metres of track had been restored. The Museum was officially opened to the public in 1991.
2. The star of the show
In 1997 the Museum acquired John Cobb's iconic 1933 Napier-Railton with the help of the National Heritage Memorial Fund. Not only that, but the Museum's experts and volunteers restored this 23,970cc aircraft-engined monster of a car to full running order – a fact that we at Brooklands Watch Company can testify, because our brand ambassador, Wing Commander Andy Green OBE, was entrusted to drive this priceless car for our first photo shoot. He said the experience was "thrilling, but I was glad to return it in one piece".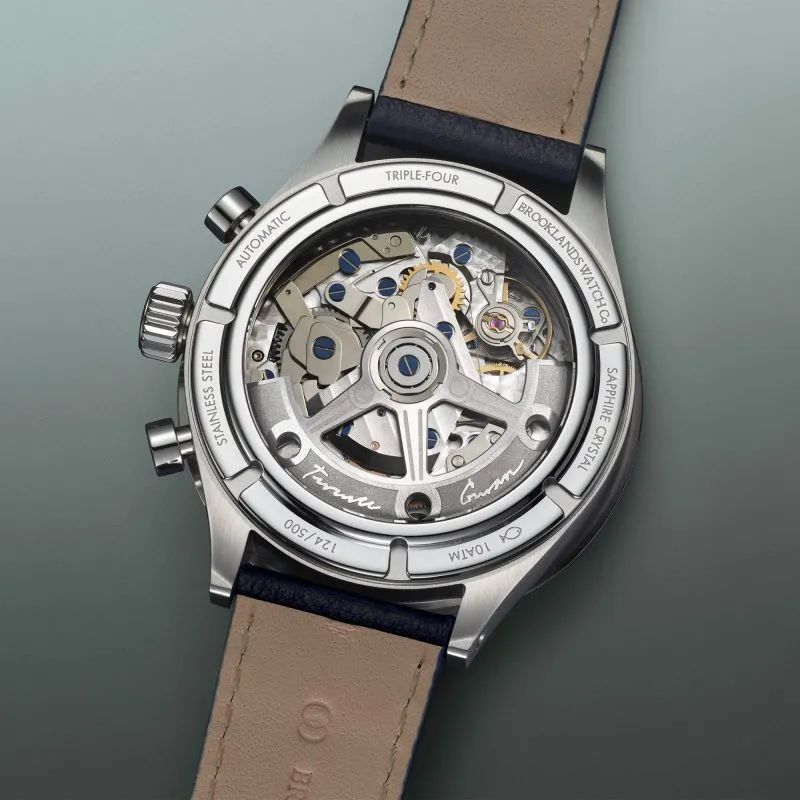 3. Supersonic experience
Brooklands is known as much for aviation as it is for motorsport, so it's fitting that Concorde, the iconic supersonic airliner which revolutionised international travel is part of the Museum's collection. Concorde G-BBDG was acquired by the Museum in 2003 and, after three years of extensive restoration, was ready for visitors to board in 2006. Inside, you can imagine what it was like to be a privileged passenger travelling faster than a rifle bullet at a mile every 2.5 seconds. You can even "fly" the plane, in a very realistic simulator.
4. Safety for posterity – and scalextric?
In 2010, the freehold of the Museum site was finally given to Brooklands Museum. Also in this year, a world record was broken at Brooklands when James May, his Toy Stories team and hundreds of volunteers successfully created the world's longest Scalextric track – 2.75 miles of it, some of which was built on the restored section of track.
5. Royal recognition
Volunteers have been vital to the success of the Museum since it opened its doors – helping with restoration, research, fundraising and guiding visitors. In 2016, the Brooklands Museum volunteers were awarded the highly prestigious Queen's Award for Voluntary Service.
6. driven by design
If you or a member of your family is a budding car designer, Brooklands' latest exhibition, McLaren Driven by Design, is a must-see. It explores how the team at McLaren Automotive designed and developed the McLaren Senna GTR supercar, which is also on show, along with the McLaren Senna GTR Prototype.
To plan your visit and find out what's on at Brooklands, visit this link. And if you've enjoyed your visit, why not join us in giving them your support?